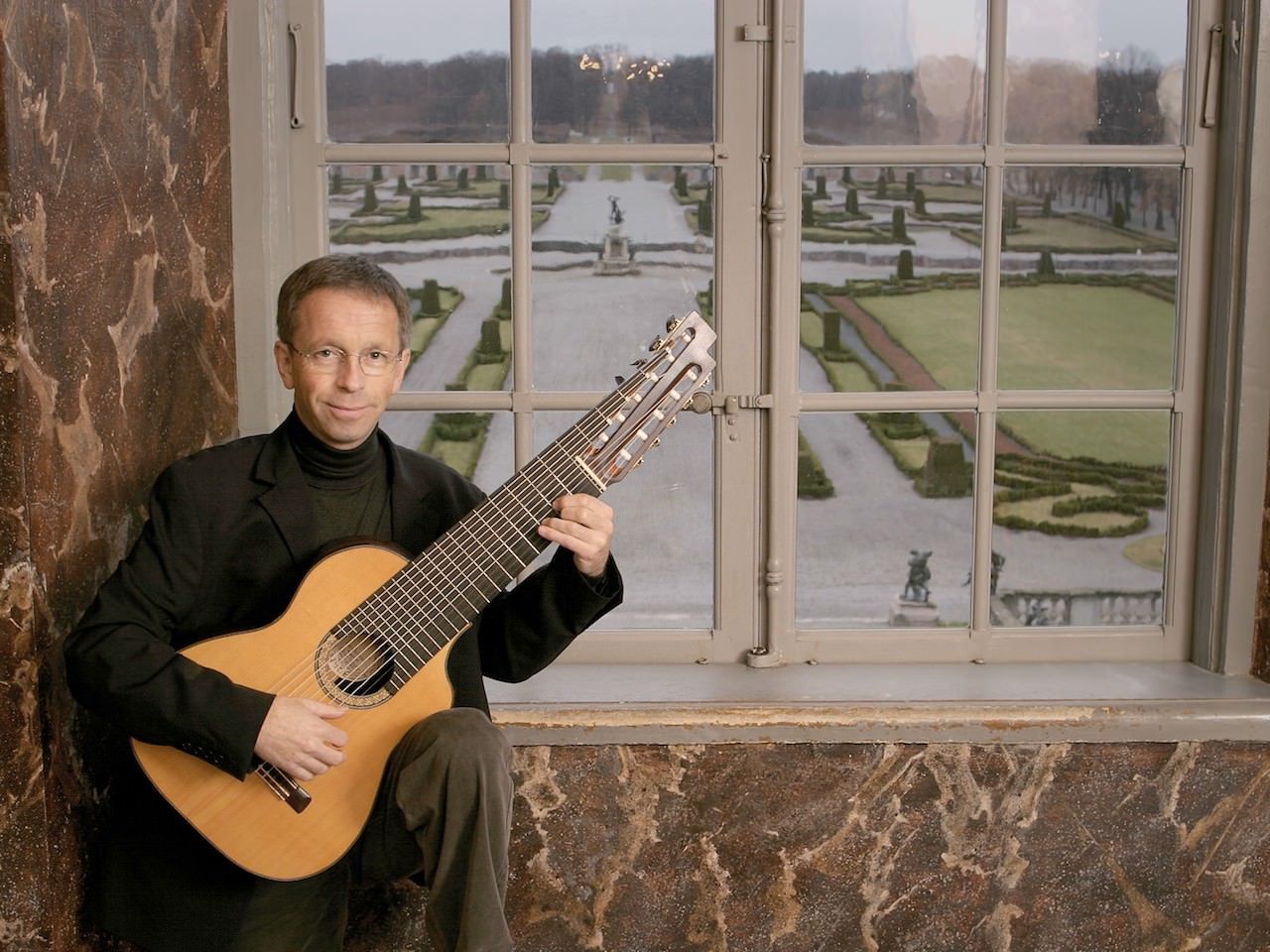 From his native Sweden, Göran Söllscher has toured all over the world – Europe, North and South America, China, Japan, Scandinavia – giving recitals as well as performing as a soloist with various orchestras. He regularly performs with all major Scandinavian orchestras, and has played with the Japan Philharmonic in Tokyo, Camerata Bern, the English Chamber Orchestra, the Royal Philharmonic Orchestra in London and the Chamber Orchestra of Europe under conductors such as Claudio Abbado, Rafael Frühbeck de Burgos, Alexander Gibson, Sixten Ehrling, Woldemar Nelsson and Esa-Pekka Salonen.
In October 1991 Göran Söllscher was invited to perform the "Concerto di Aranjuez" at the "International Hommage to Joaquin Rodrigo" celebrating the composer's 90th birthday in Madrid. The "International Hommage..." production was later also performed in Puerto Rico. Göran Söllscher regularly makes concert tours in Japan. In June 1996 he was invited for a major Japan tour including recitals and duo concerts together with violinist Gil Shaham and the Japanese flutist Shigenori Kudo. His latest tour to Japan was the 13th in order and took place November 2007. He is invited back in 2011.
As an exclusive Deutsche Grammophon artist, Göran Söllscher has until today made 19 solo recordings, which includes a prestigeous complete box of J.S. Bach's works for lute. In 1990 his DG recording of three major works for guitar and orchestra, Rodrigo: "Concierto de Aranjuez" and "Fantasía para un gentilhombre" and Villa-Lobos: "Guitar Concerto", with the Orpheus Chamber Orchestra in New York, was released, and has until now sold more than 150,000 copies. In May 1994, his duo-recording together with Gil Shaham "Paganini for Two" was listed among the ten best selling classical albums in the USA (Billboard Magazine) and in October 1995 he released "Here, there and everywhere" – a CD with music by The Beatles arranged for solo guitar. 1996 saw the release of yet another duo album, now with the French flutist Patrick Gallois playing music by Astor Piazzolla. His CD called Eleven String Baroque, was released in 2004, and his latest album on DG, called The Renaissance Album (2005) won the Swedish "Grammis Award" in 2006, in the category "Classical Artist of the Year"!
Next CD to be released in 2007 was a recording with cellist Jian Wang! In 2008 and 2009 these two artists have been touring worldwide. During the past few years Göran Söllscher has been a frequent guest at the Verbier Festival, and at other important international festivals in Europe. He visited the Istanbul Festival in 2009 and has toured extensively in Scandinavia in recent years. In 2010 he was back with the Belgrad International Guitar Festival, and to South Korea for concerts and Master Classes. He had a US Recital in January 2010, and returned to US and Japan in 11/12 for concerts (his 11th tour in Japan). In 2013/14 hed toured extensively in Germany and Norway, and continued to be a frequent guest soloist with Scandinavian orchestras and ensembles. He performed in US and Canada (Montreal) in Dec. 2013.
For some years now Göran Söllscher has been holding Sweden's only professorship in guitar playing and he frequently appears on Swedish and international radio and television. In January 2006 Mr Söllscher was awarded the Royal Medal Litteris et Artibus. He is equally a member of the Royal Swedish Academy of Music.