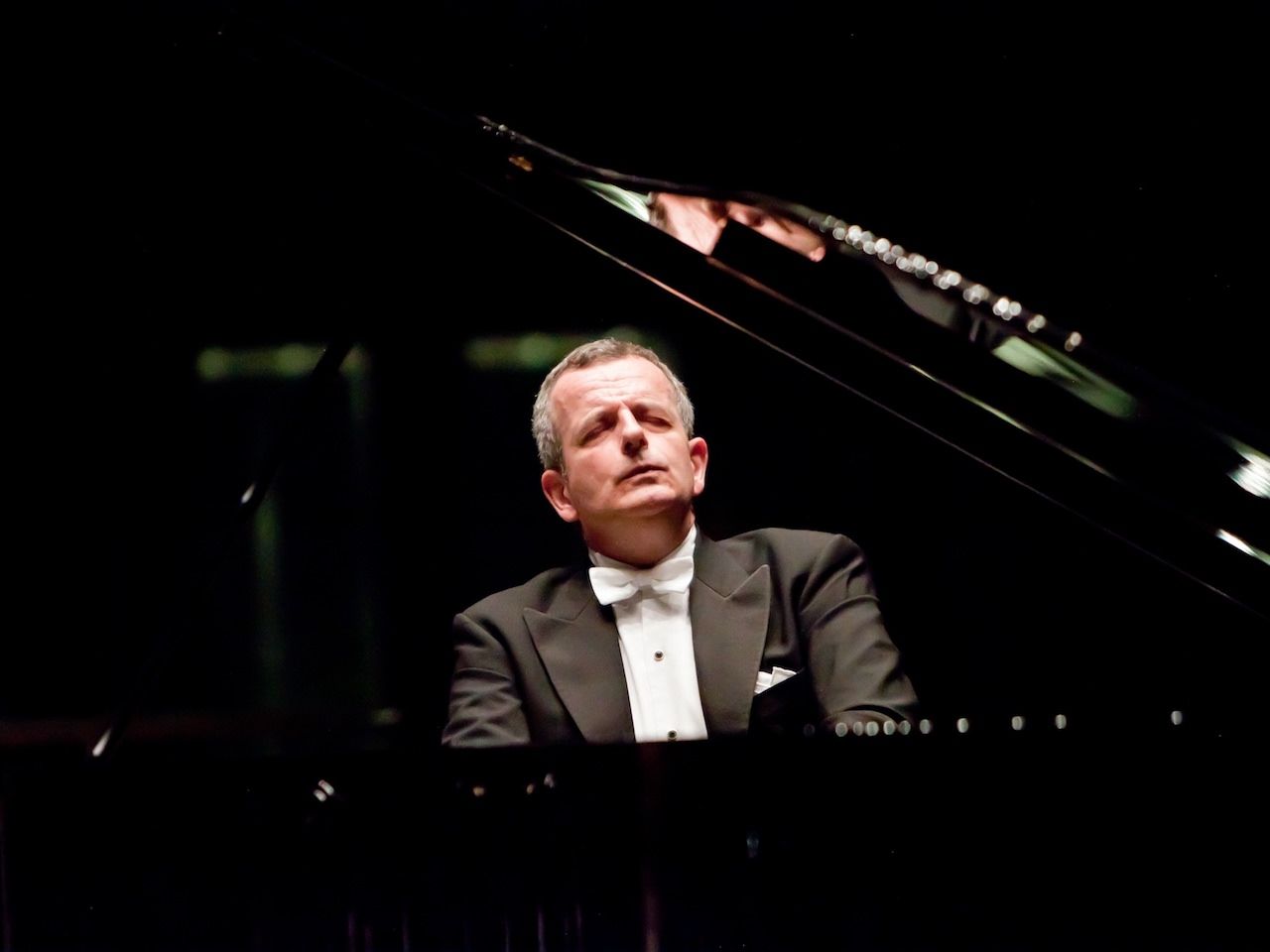 July 2017
Michael Korstick ranks among the most important German pianists of our time. His playing is documented on numerous award-winning CDs which bear witness to the enormous breadth of his repertoire. Critics point out that the characteristic feature of his playing is the astonishing balance between brilliant virtuosity and musical intensity, reconciling strong individuality with uncompromising fidelity to the score.
After no more than two years of piano lessons the eleven-year-old Michael Korstick receives the first prize in the "Jugend musiziert" competition in his native city of Cologne. But years of study follow before he makes his first public appearances at the age of nineteen, then, however, with pieces like Brahms's Second Piano Concerto or Beethoven's Sonatas op. 106 and op. 111 for his recital debut. He takes master classes with the eminent Russian pianist Tatiana Nikolayeva in 1974 and continues to work with her on many occasions during the following years. In 1976, the young pianist moves to the United States where he studies with Sascha Gorodnitzki, a pupil of the legendary Josef Lhévinne, as a scholarship student of the world-renowned Juilliard School for seven years.
After winning numerous prizes and awards in the most prestigious international competitions, Michael Korstick returns to Germany in 1983 where he embarks on his concert career, performing recitals all over the country and appearing with most of Germany's symphony orchestras. At this point, his repertoire already comprises a great number of works of all periods and styles, among them the cycle of Beethoven's 32 Piano Sonatas which he performs publicly on several occasions. The number of works for piano and orchestra played by him keeps growing steadily, reaching over 120 titles by now. His repertoire includes not only the complete concerti of Beethoven, Liszt, Brahms, Tchaikovsky, Rachmaninoff, Prokofiev, and Bartók, he also champions many lesser-known works such as the Piano Concerto of Ferruccio Busoni which he performs on many occasions, Samuel Barber's Concerto op. 38, of which he gives the Chilean premiere in 1992, as well as Liszt's rediscovered Concerto in E-flat op. post. and Wladyslaw Szpilman's Concertino, both of which he records as premieres for Bavarian Radio; in 1994, he premieres the new Piano Concerto by Siegfried Matthus in Frankfurt/Oder. His international activities grow, he performs in Asia, North Africa, and The Americas. One of the highlights of his regular tours to South America is the sensational success of a series of concerts with the Orquesta Sinfónica de Chile in which he performs both Piano Concerti of Brahms on a single night.
Up to this point, Michael Korstick has chosen not to make any commercial recordings, but in 1997 a sponsor provides him with the opportunity to produce two CDs without having to make any compromises in terms of repertoire or recording quality. The scrupulous artist decides to record only standard works central to his concert repertoire, thus running the risk of inviting comparison with the great pianists of the past and the present. Within two weeks he records the last three sonatas of Beethoven as well as Liszt's B minor Sonata, Chopin's Polonaise Fantaisie, and Schumann's Carnaval. The press hails the subsequent releases as a sensation, making the name of Michael Korstick known to a wide audience. Important concerts follow, among them a performance with the Budapest Festival Orchestra under Iván Fischer at Frankfurt's Alte Oper, as well as foreign tours to Mexico (recitals at the Palacio de Bellas Artes and Festival Internacional Cervantino, Brahms' Concerto No.1 for the season opening or the Mexican State Orchestra under Enrique Bátiz), Spain, Korea (Concerti of Brahms and Prokofiev at the Sejong Center for the Performing Arts and Seoul Arts Center), and South America. A third CD appears, this time with music by Russian composers. In Germany, Michael Korstick performs Beethoven's Complete Piano Sonatas on several occasions and goes on tour with the Cracow State Philharmonic, performing within a few days the Grieg concerto, Chopin's First as well as both Brahms Concerti.
In the summer of 2003, Michael Korstick records the two CDs which permanently establish him in the top echelon of German pianists: the performances of Beethoven's Sonatas op. 53 and op. 106 ("Hammerklavier") are pronounced by the leading critics to have "set a new standard" and receive extensive media coverage while the CD with Schubert's Sonata in B-flat receives the "Echo Klassik" award as "Solo Performance of the Year". This is followed by offers from the major independent labels, resulting in more than 40 CD productions until the present day. These include Beethoven's Complete Piano Sonatas as well as a Schumann recital for OehmsClassics, a Liszt cycle containing the complete "Années de Pèlerinage", the complete works for piano and orchestra by Dmitri Kabalevsky and Darius Milhaud, Max Reger's monumental Piano Concerto as well as Mendelssohns's complete "Songs without Words" for the CPO label, last not least a series of recordings dedicated to the music of French composer Charles Koechlin and a projected five-CD set of the complete piano music of Claude Debussy for Hänssler Classic of which Volumes I to III have already been released to great critical acclaim. For these recordings Michael Korstick receives the "MIDEM Classical Award" in Cannes France, the "Grand Prix du Disque", and five times the "Award of the German Record Critics". On the concert circuit, Michael Korstick appears at major festivals such as Klavierfestival Ruhr, Schubertiade Hohenems, Europäisches Musikfest Stuttgart, and Rheingau Musikfestival, as well as in concert halls such as Alte Oper Frankfurt, Herkulessaal Munich, Liederhalle Stuttgart, Philharmonie Essen (here with a cycle of the complete Beethoven piano concerti), or Jahrhunderthalle Bochum where in 2011 he performs both Brahms Concerti together with the Cologne Radio Symphony Orchestra as part of the Klavierfestival Ruhr to which he returns in 2013 with a solo recital. As of October 2014, Michael Korstick has been living and working in Linz/Austria, where he has been named full professor of piano at the Anton Bruckner University.